Match Made in Heaven: Your Gown Our Jewels
July 15th, 2021
You have just about got it all—you have found the man of your dreams, you chose the perfect wedding dress, and now let's complete the look with amazing bridal jewelry to complement your gown. It might feel exciting, or a little intimidating, but by carefully considering your options and keeping in mind your dress type, including the neckline, you'll be ready for your closeup in no time. We have some tips to make sure your entire look is picture perfect on your special wedding day.
Check the Neckline
Your gown's neckline is very important as it will determine what type of jewelry will compliment your dress. For example, if you decide to select a sophisticated strapless gown, dangling diamond earrings will accentuate your neckline. This look is very dramatic, and it will most certainly bring you to the center of attention. The earrings you select can be pearl shoulder dusters or dazzling diamonds with a bold geometric design. Either way, these elegant earrings will tie everything together!
Your off the shoulder neckline or a beautiful one-shoulder gown can also take their cues from these prominent statement earrings tips.
When Details Matter
If your dress has a lot of details, especially along the neckline, opt for something very simple, so your jewelry will not fight for attention with the main attraction, your wedding gown. We recommend choosing a lovely diamond bracelet, which will bring attention to your bouquet as an added bonus. A possibility is a classic look—the coveted diamond tennis bracelet. This signature diamond look is iconic for a reason.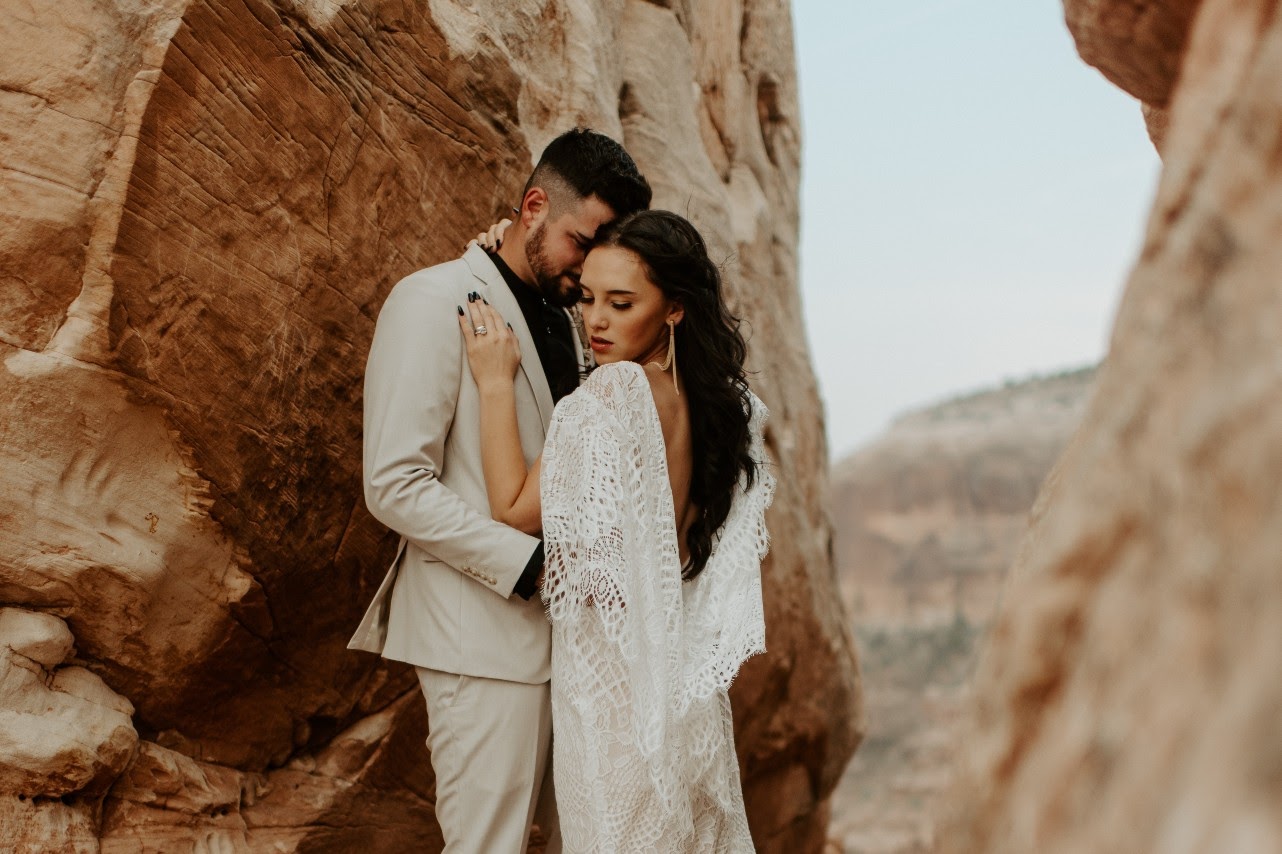 Sultry and Stunning
If your dress has a plunging neckline, like a V neck or deep scoop, you might want to further accentuate your decolletage with a gorgeous diamond necklace. A long thin necklace like a lariat makes a beautifully balanced accessory. Shy Creations' three stone lariat necklace is a feminine option that fills the neckline area without upstaging the look of your gown.
High Neckline Highlights
You may have a boat neck dress or one designed with a high neckline, which means the fabrics are close to the area where your jewelry will be set. So keep it simple to look elegant and refined. For instance, a single diamond solitaire necklace at the right length will be just enough accessorizing. With these necklines, your earrings should be delicate for a timelessly pleasing result. Diamond or pearl studs will pair perfectly with this style.
Get to Know the Diamond Experts at Deutsch & Deutsch
If selecting your bridal jewelry seems like an intimidating task, let us take the pressure off. At Deutsch & Deutsch, we offer a carefully curated collection of designer jewelry and a team of bridal jewelry experts ready to assist you in creating your dream wedding look. Call, or stop into one of our Southern Texas locations nearest you. Allow our friendly associates to share their expertise and recommend several bridal jewelry ideas for your wedding day.