The Many Hues of Bracelets
March 15th, 2023
Spring is right around the corner, and bracelets are a crowd-favorite accessory for any chic outfit this season. Gemstones are even more popular this time of year, with vibrant colors that offer a breath of fresh air. Cleverly, preferred designers have incorporated vivid gemstones into their bracelet designs for a charming accessory perfect for springtime.
Tempting with Turquoise
In recent years, turquoise gemstones have skyrocketed in popularity. As one of the first jewels to be unearthed, turquoise is unlike most of your favorite gems, with a uniquely opaque yet vibrant appearance. This gem is unapologetic and brings personality to any outfit you wear this Spring.
Our fashionable experts simply adore this Evil Eye bracelet from Shy Creation's Kate collection. Like most of the pieces from Shy Creation, this yellow gold bracelet is undeniably playful and chic, no matter how you style it. The Evil Eye is regarded as a symbol of protection and is usually depicted in blue. The striking sapphire in the eye's iris deepens this talismanic meaning.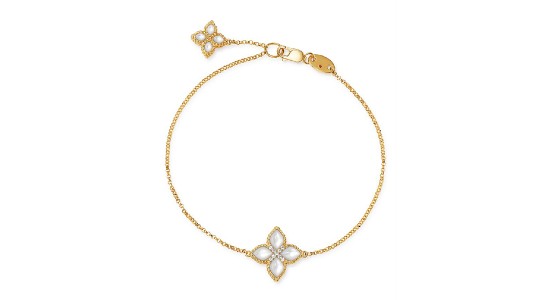 Leave Them Wanting with Whites
Although neutral colors are usually recognized as boring, they can be remarkably versatile. White is especially delightful in the springtime. The most popular white-colored gemstones are also some of the most elegant jewels in the world. Pearl, mother of pearl, and opals are raved-about when used in jewelry designs.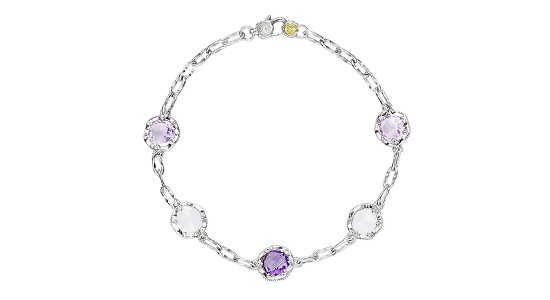 Pretty in Purple
Purple, in general, is popular any season, from deep, dark plums in the wintertime to neon violets in summer. Spring fashion is often characterized by pastel colors, and therefore, lavender is a smart selection to include into your spring jewelry. Choosing amethysts that are pastel-hued ensure that you stay trendy this season.
Crafted with high quality sterling silver, this chunky chain bracelet features TACORI's famous California-inspired designs with pastel amethysts and chalcedony gemstones. Style this bracelet with your favorite graphic tee and ripped jeans or sport it with formal wear.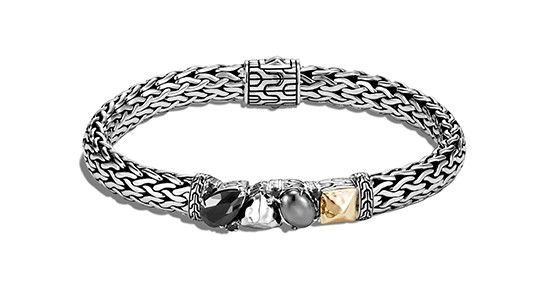 Gorgeous Grays
Similar to whites, grays are a wonderfully versatile neutral. Light to silver grays especially are a favorite in the springtime. These icy tones make a surprising addition to any ensemble you sport this season, catching all the attention from onlookers wherever you go. Silver-colored gemstone jewelry is guaranteed to be a crowd pleaser.
John Hardy incorporates gray gemstones into a wide selection of their bracelets, but perhaps the most stunning of them all is this foxtail chain bracelet. The foxtail chain adds a bold yet vintage personality to the piece, topped off with an array of small hematite, spinel, and sapphire gemstones.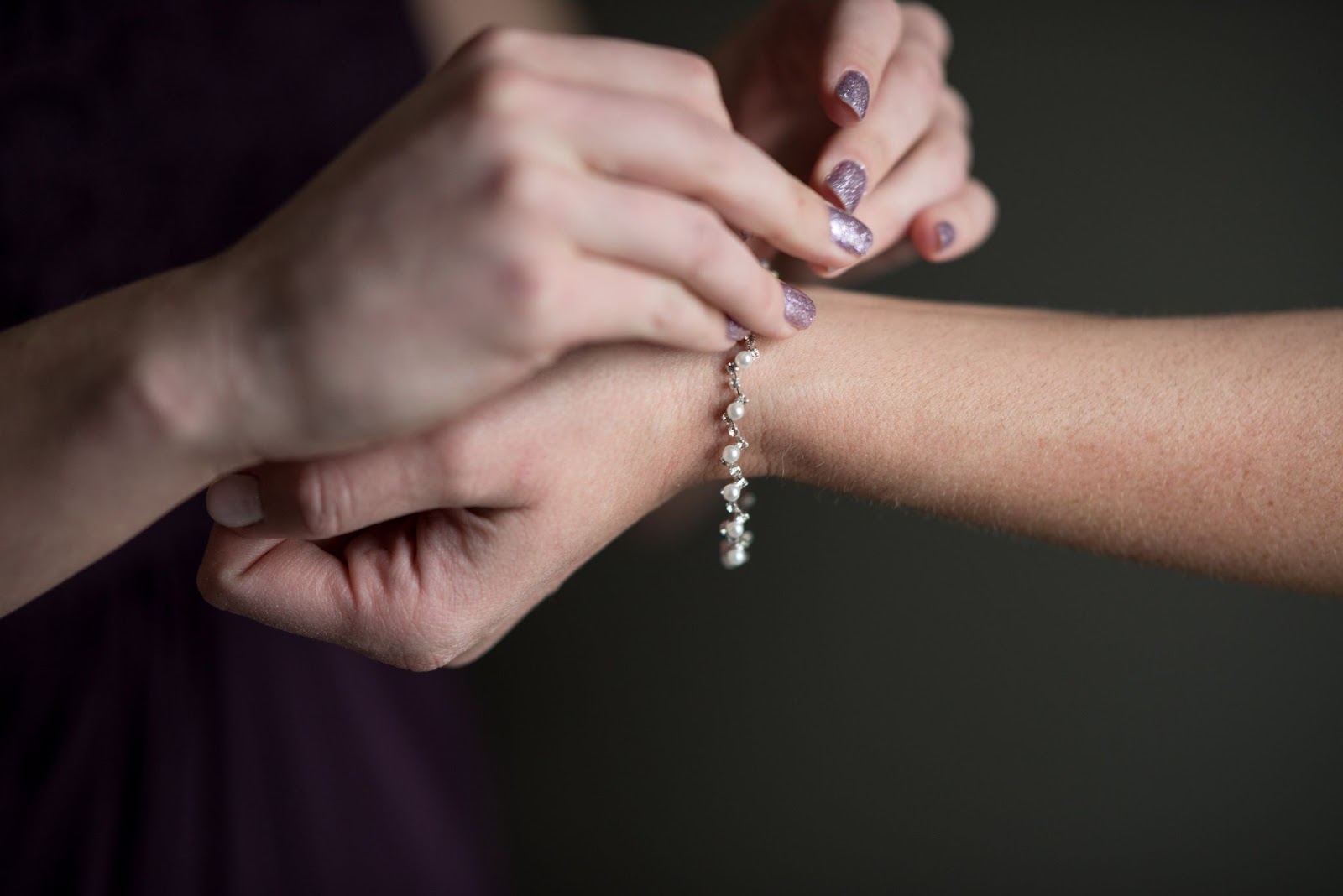 Shop Gemstone Bracelets from Deutsch & Deutsch
As a family-owned business for over a century now, Deutsch & Deutsch is proud to be the destination where life happens across the great state of Texas. With five locations, our tradition of hard work and ingenuity drove us to evolve from our humble beginnings as a tourist shop and still motivates us today as we become a part of your special moments.
No matter what your jewelry needs are, you are sure to find the perfect accessory among our curated selections from the top brands in the industry. Schedule an appointment at the nearest Deutsch & Deutsch showroom or browse our inventory online at your convenience.